How Many Crimes Do Your Police 'Clear'? | New Tool Allows You to Find Out

Each year, the Federal Bureau of Investigation (FBI) collects data from law enforcement agengies (at all levels) regarding crimes in their jurisdictions and compiles an annual Uniform Crime Report (UCR). The FBI describes the UCR this way:
The FBI's UCR Program is a nationwide, cooperative statistical effort of more than 18,000 city, university and college, county, state, tribal, and federal law enforcement agencies voluntarily reporting data on crimes brought to their attention. Since 1930, the FBI has administered the UCR Program and has continued to assess and monitor the nature and type of crime in the nation. The program's primary objective is to generate reliable information for use in law enforcement administration, operation, and management; over the years, however, the data have become one of the country's leading social indicators. Criminologists, sociologists, legislators, municipal planners, the media, and other students of criminal justice use the data for varied research and planning purposes.

In 2013, law enforcement agencies active in the UCR Program represented more than 309 million United States inhabitants (98.0 percent of the total population). The coverage amounted to 98.8 percent of the population in Metropolitan Statistical Areas, 92.9 percent of the population in cities outside metropolitan areas, and 93.5 percent of the population in nonmetropolitan counties.
The data are notoriously dense. National Public Radio (NPR) notes that, "The FBI collects clearance statistics for its annual 'Uniform Crime Report,' but it doesn't break those numbers down by jurisdiction. That makes it hard for people to compare local police departments' clearance rates, or track them over time." To make the data more accessible, NPR has created a tool to locate information about the clearance rates for crimes in a particular geographic area.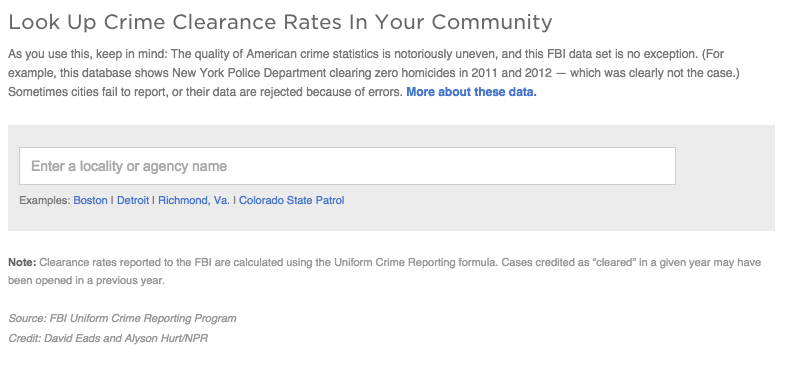 The FBI UCR data can be searched by location name (e.g., Boston, MA) or agency (e.g., Colorado State Patrol).
Currently the tool includes only available data through 2013. NPR plans to add 2014 data when they are available.
NPR offers a number of caveats for users to keep in mind when using their crime reporting search tool.
The quality of American crime statistics is notoriously uneven, and these are no exception. Sometimes cities fail to report, or their data are rejected because of errors. For instance, this database shows the New York Police Department clearing zero homicides in 2011 and 2012 — which was clearly not the case.
These data follow the standards of the FBI's Uniform Crime Report. One of the idiosyncrasies of UCR Summary data is that clearances are credited to the year in which the crime was cleared, not the year in which it was committed. As a result, it's sometimes possible for a city to clear more murders than were committed in a year, for a clearance rate above 100 percent.
Some cities will claim different clearance rates, based on another federal statistical standard known as the NIBRS. We decided to stick with the more widely-used UCR Summary standard, to allow people to compare like with like. (Here is an explanation of the differences between UCR and NIBRS.)
We've left out clearance statistics for sexual assault, because experts in the field have advised us that reporting inconsistencies make those data too unreliable.