Update to "Dear U.S. Supreme Court Web Site: Where are Your Briefs?"

It never ceases to amaze us that our own U.S. Supreme Court does not post its briefs at their site, AND also fails to provide information on where to find Supreme Court briefs for free. Instead, the Court's site tells you to obtain briefs from pay sites such as Lexis and Westlaw, and from Document Retrieval Services. The only free site it does note is one that hasn't posted any new briefs since 2007, FindLaw. With that said, the Court's pointing to FindLaw is not entirely useless since FindLaw does offer historical briefs back to 1999 (through 2007) at its Supreme Court Center.

Dear U.S. Supreme Court website: The ABA Preview of U.S. Supreme Court Cases provides merit and amicus briefs from 2003-present. You first must choose a Term (e.g., 2014-2015) and then select from an alphabetical list by party name. Or, to quickly find your case from the long list, we would recommend you use your Find function (Control f for PCs and Command f for Macs) and enter part of the case name into the find box to be taken directly to the listed case. You can then choose any of the briefs to view full-text.
Another site that archives merit and amicus briefs is Scotusblog, but it doesn't go back as far as the ABA site--its archives go back only to 2007. However, it offers some useful features that the ABA site does not offer. For instance, in addition to briefs, Scotusblog includes the Court's Proceedings and Orders (docket) so you can follow various steps of the case (such as, DISTRIBUTED for Conference of January 8, 2016, as shown in the next illustration). It also offers you the ability to set up free e-alerts to receive updates about a particular case.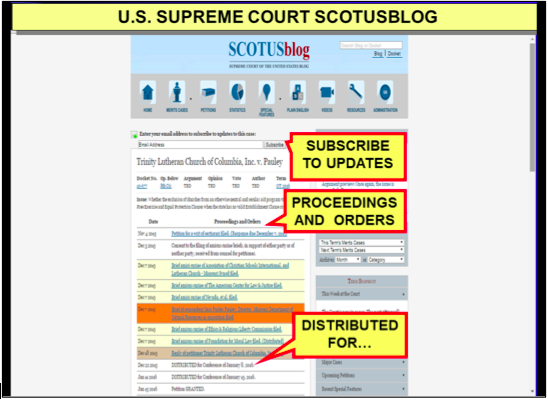 To use Scotusblog's archive, choose a Term to view the list of cases for that Term. They will be listed in sitting order, so click the link View this list sorted by case name to find your case alphabetically. Once you find the case, click on its title. Then you will see a docket sheet displaying the Proceedings and Orders, listed from oldest to newest, as shown in the above illustration. You can choose any of the briefs to view full-text.
As for posting amicus briefs quickly, neither site is quite as up-to-date as we would have hoped, but they're close. For example, on January 5, 2016, we were able to locate, on each site, an amicus brief filed just the day before (January 4, 2016), but we were unable to locate a particular one filed on the same day we were searching (January 5, 2016). By performing a Google search, we successfully located the amicus brief we were looking for - posted by a non-profit agency that was interested in the case, but not a party or one of the amicus curiae. So for very recent (same day) amicus briefs, your best bet is to Google it.