The Unofficial User Guide to New Casemaker Features

The folks at Casemaker have been extremely busy adding new features and content to their database, and extending date coverage further back in time. With so many new additions, their online User Guide is now out of date. This is a preview of our upcoming White paper where we will explain many of the new additions and add screen shots to illustrate many of the features.
Subsequent Case History Feature Introduced For Texas Cases Only…But Coming Soon for Others
A subsequent case history feature has been introduced for Texas cases. When viewing a Texas Court of Appeals case, a click of the "Subsequent Case History" button brings the user links to any subsequent history. This refers only to whether petitions or writs for review were granted or denied. Casemaker will be extending this feature to other jurisdictions.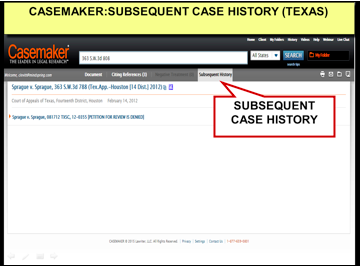 Copy and Paste Feature Now Includes the Case and Statute Citation and the Case Pin Citation
When you highlight a portion of a case or statute's text because you plan to copy it and then paste it into another document, be sure to right click to take advantage of the Copy pop‐up menu. This menu now offers you the choice to automatically insert the full Citation or the Pin Citation to the end of your highlighted text selection when you paste it into a document. For example, if you highlight the paragraph from 224 P.3d 437 (shown in the next screen shot) and then right click the highlighted paragraph, you can choose Copy with pin citation.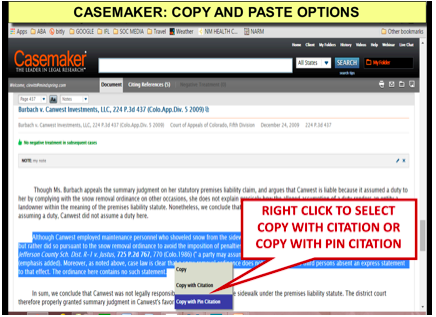 This will paste the highlighted paragraph into your Word document, with the Pin Citation 224 P.3d at 442 appended at the end of your pasted selection (see next screen shot).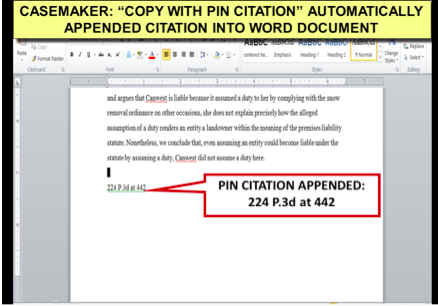 If you right-clicked the highlighted paragraph and instead chose Copy with citation, then the full citation (which includes the case title, reporter name/volume/beginning page number, court, and date) would be appended to your pasted selection like this:
Burbach v. Canwest Investments, LLC, 224 P.3d 437 (Colo.App.Div. 5 2009)