Big Images Come in Small Packages; Data Projectors Continue to Shrink; Pico Projectors at 2011 CES


One of the biggest stories at this year's Consumer Electronics Show (CES) is about a product that's getting smaller and smaller. More than a half-dozen companies announced newer and smaller LCD (and/or LED, DLP) data projectors. Lawyers, professional speakers, CLE organizations, or anyone who travels to make presentations will find these pico projectors useful. Despite their small size, the images they project are surprisingly bright and large.
3M, an early leader in the pico projector space, is showing the latest addition to its line, the MP180. With 32 lumens of brightness and two hours of battery life, 3M claims the device will project images up to 80 inches diagonally. The MP180 packs alot of features into its small package. Weighing less than 12 ounces, the MP180 boast 4 GB of internal memory (expandable via a micro SD card slot), SVGA resolution, and a Windows-CE-based file management system that allows you to display Powerpoint presentations, Word, Excel, and PDF files stored directly on the device, as well as surf the Web via WiFi and project the results.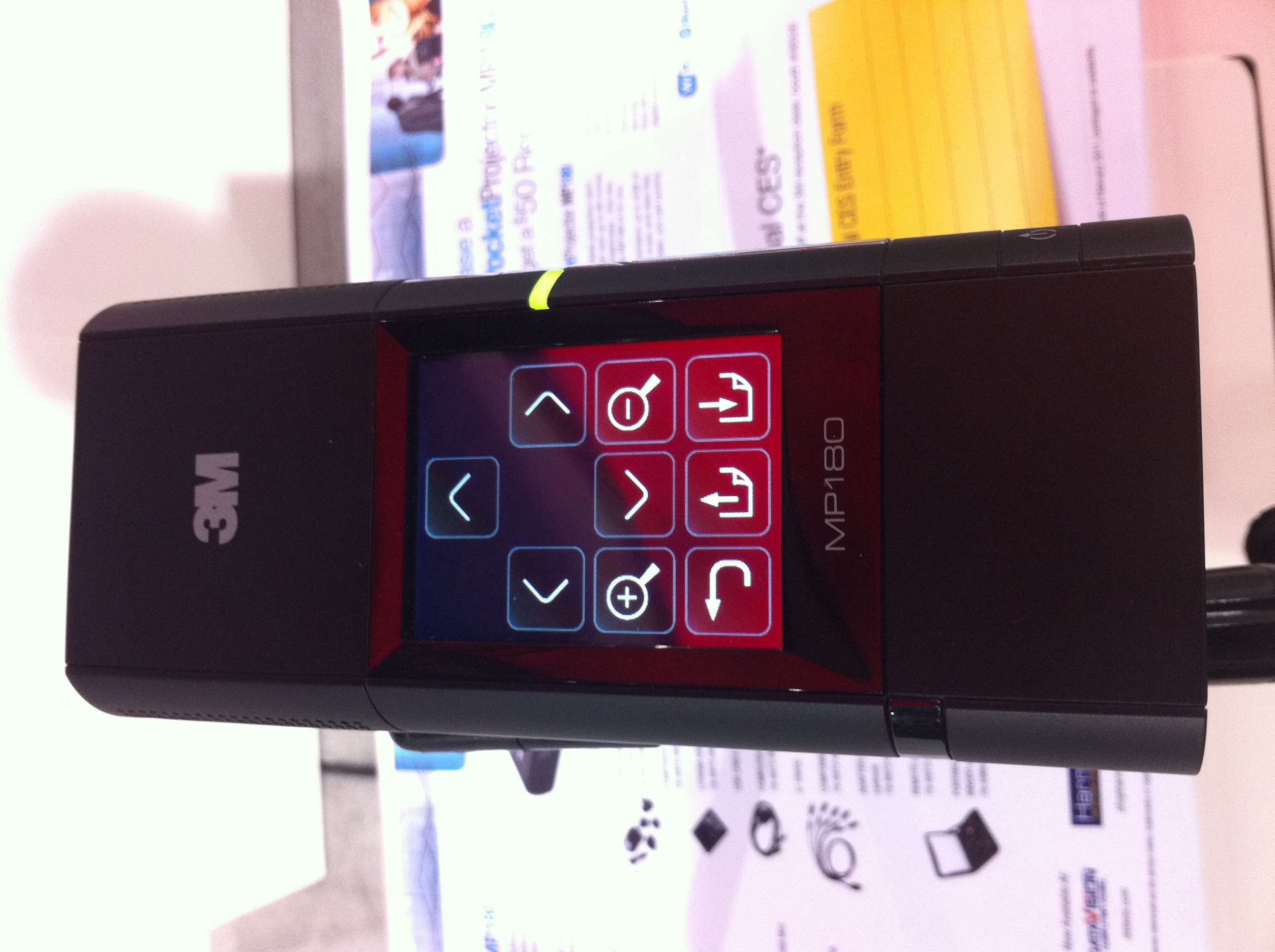 The MP180 also includes an integrated touchscreen for navigating the stored files and accessing a qwerty keyboard. Numerous accessories are also available, including a power adapter/charger, and various input cables (including one for Apple iPod/iPad/iPhones). The MP180 is expected in stores in the first quarter of 2011. The suggested retail price is $450. It joins the existing MP150 and MP160 models with suggested retail prices of $250 and $350, respectively. 3M also offers its Shoot and Play camera/projector combination at the suggested retail price of $400.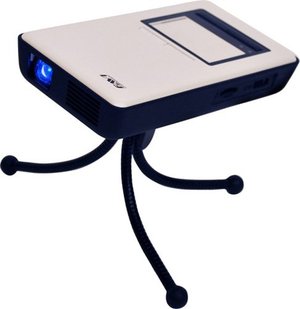 FAVIEntertainment announced its new PJM-3000 widescreen, handheld projector. Weighing less than a pound, the projector features built-in memory of 2GB for storing PowerPoint presentations, Word documents, Excel files, PDFs and other common file types to be displayed. Memory can be expanded to 16GB with the unit's available SD card slot. The projector also has a touchpad on top to help users navigate the integrated Windows CE 6.0 operating system to project those stored files. The company reports that projector's built-in battery can be used for up to 1.5 hours, or it can be connected to an outlet. The PJM-3000 boasts the capability of projecting up to a 100" diagonal image. The $299 projector is available on the manufacturer's Web site.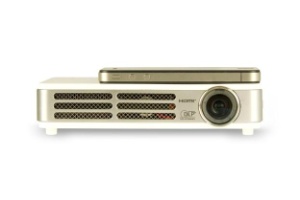 Vivitek announced its new Qumi line of LED-based pocket projectors. Despite it's sleek design, the Qumi's 1.6 ponds is heavy compared to other pico projectors. The Qumi, which includes touch sensitive button controls, is expected to be available on May 2011, at a suggested retail price of $499.
Sony has married three of its new HandyCam video cameras with a pico projector. The newly-announced Sony HandyCam HDR-PJ50V, PJ30V, and PJ10 will all include built-in projectors. All of the cameras, can project video and images up to 60 inches (diagonally; when projected 18 feet away). Last year, Samsung introduced its Beam phone with an integrated projector.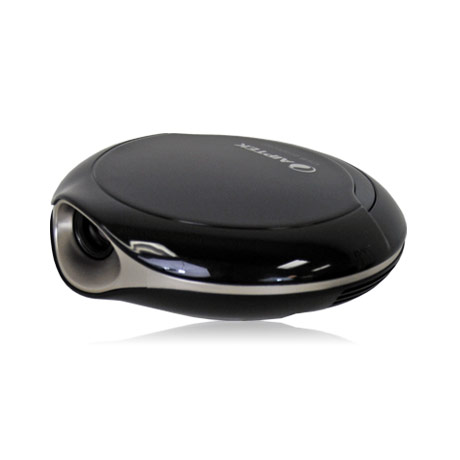 Aiptek is highlighting its already available PocketCinema line of pico projectors, including the round T25. USB-powered, the T25 can project an image up to 73" diagonally.
Other companies, including DGX and Optoma also highlighted the tiny projectors in their respective booths.
Microvision has even embedded a projector into an smartphone running the Android operating system. The new phone/projector is just a prototype, but if it is produced, would join the company's already-available ShowWX pico projector which retails for $400. Weighing just 4 ounces and just over a half inch thick, the ShowWX is one of the smallest of the available pico projectors.
One company, Elite, has even created a tabletop screen especially designed to maximize the brightness of the pico projector's images. The lightweight and compact screen is priced at $99. While Optoma created its Screen Portfolio to serve as a travel case for its projector and an integrated screen is available online for $55.99.