Fastcase Offers New Features and Services

On a recent visit to Fastcase, I noticed a number of new features and services available for users.
Alerts
The first was something new on the search results page—an Add Alert option. When you click the Add Alert button, you are saving your search and asking Fastcase to alert you by email whenever new documents are added to Fastcase that match your search terms. To cancel your alert, go to Options | Manage Alerts.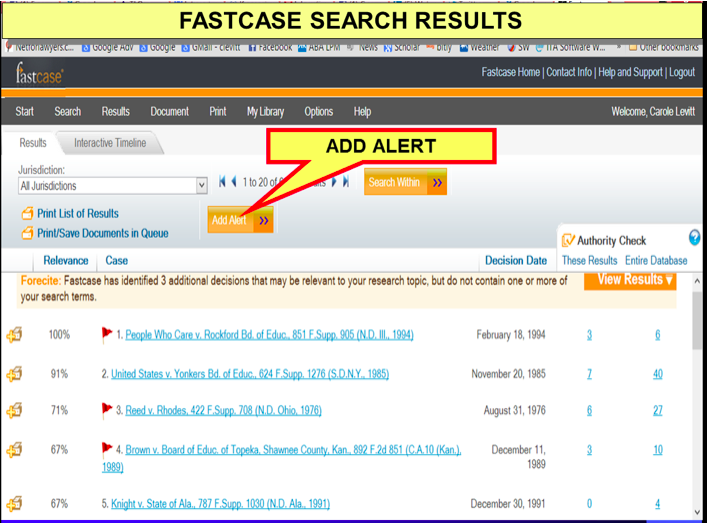 Annotated Statues
Fastcase's annotated statutes project is now up to 37 states (plus the US Code). They will continue to add annotations to other states' statutes.



Copy with Citation
Another new feature at Fastcase is the "copy with citation" option. When you select text in a case or statute, etc., a small menu pops up with the option to include the document's citation when you copy the text.
Partnership with HeinOnline
On July 9, 2013, William S. Hein & Co. and Fastcase announced a new partnership. HeinOnline subscribers will soon be able to hyperlink to Fastcase's federal and state case law anytime a case is mentioned in a publication hosted at HeinOnline (primarily law journals and historical state statutory materials). In addition, HeinOnline subscribers will be able to access Fastcase's citation tool (Authority Check) and its new "Bad Law Bot" (which identifies negative citation history of published opinions; and we previously wrote about here)—all for free.

And, on the flip-side, Fastcase will integrate HeinOnline's Law Journal Library (over 1,800 titles back to their first volumes), Session Laws Library, State Attorney General Reports and Opinions, and State Statutes: A Historical Archive and historical state statutory materials, into Fastcase search results. However, Fastcase users will only be able to view HeinOnline's list of results and its abstracts for free. To access the full articles, Fastcase subscribers would also have to subscribe to HeinOnline. Bar associations will also have the option to add the Hein material to their member benefit.

The integrated libraries are supposed to be available on both services at the end of the summer.