Gmail Priority Inbox Comes to Google Apps Mail Accounts


Earlier this week Google announced an innovative new (automatic) filtering feature to its Gmail service to help users better organize their incoming messages and determine which should be read first - and which could wait. Named "Priority Inbox," Google described it as "a new view of your inbox that automatically helps you focus on your most important messages. Gmail has always kept spam messages out of your inbox, and now we've improved Gmail's filter to help you see the emails that matter faster without requiring you to set up complex rules."
While there have been numerous reports about Priority Inbox in standard Gmail accounts. We have just seen Priority Inbox added to our branded Google Apps for domains e-mail accounts. Google Apps for domain administrators who want to make this, and other new features, available to users must select the "Enable pre-release features" in their domain administration control panel.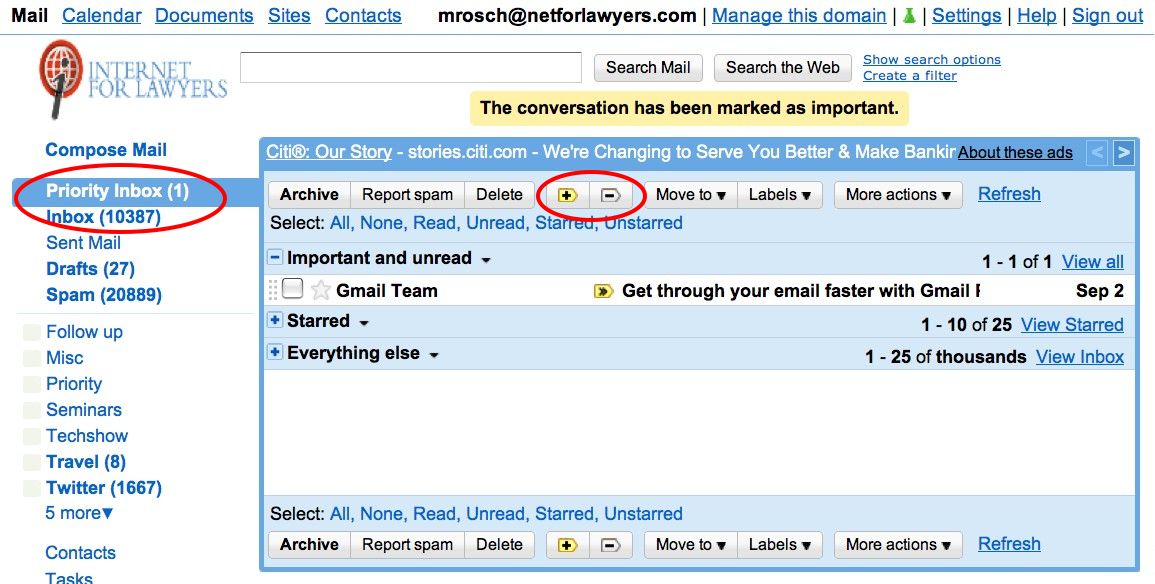 Priority Inbox rearranges your Inbox into three sections: Important and unread, Starred, and Everything else. During the (brief) set-up process it shows you a selection of e-mails already in your Inbox and asks you to prioritize them - Gmail uses this as a guide to prioritize all future incoming messages.
Out of the box, Priority Inbox does a fair job of categorizing incoming messages. To help it along, Google has added the plus and minus buttons at the top of the Inbox. Use these to increase or decrease the priority of any message in your Priority Inbox by checking the box to the left of the messages you want to change priority for and then clicking the appropriate (plus or minus) button.
You have to opt into the Priority Inbox (by clicking the red "New Priority Inbox (beta)" link at the top of your Inbox) before you can use it. Getting back to the "standard" view of your Inbox, is as easy as clicking the "Inbox" tab in the left hand column of the Gmail page.