New Google Gmail and Calendar in One Hour for Lawyers Book Helps Lawyers (from Solos to Large Firms) Use the Business Version of These Google Apps to Transform Their Practice

The new book Google Gmail and Calendar in One Hour for Lawyers will help lawyers easily and quickly learn how to leverage the powerful collaboration tools of Google Apps for Business to transform their law practices.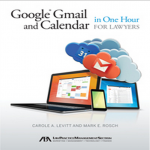 Written by nationally acclaimed authors and speakers Carole Levitt and Mark Rosch, Google Gmail and Calendar in One Hour for Lawyers is designed as a step-by-step guide for lawyers to learn what features and functions are available in the Business versions of Gmail and Google Calendar, as well as related services such as Google Chat, Google Talk, Google Hangout, and Call Phone. Millions of corporations, small businesses, solo lawyers, large and small law firms, and government agencies have moved from hosting their own e-mail servers ‑ and in some cases, calendars and documents ‑ to using Google Apps for Business.

Google Gmail and Calendar in One Hour for Lawyers illustrates how lawyers are relying on Google Apps for Business for routine functions. Through this book, readers will learn how to:
Create Google Apps for Business accounts;
Get started with Gmail as the e-mail service provider;
Use labels and customized settings to manage e-mail;
Stay organized with Contacts and Task Manager;
Access Gmail messages and Calendar offline;
Communicate with Google Chat, Google Talk and Google Hangout;
Use Gmail to make phone calls;
Add, edit, search and print Calendar events;
Download Google Apps marketplace add-ons and Google Chrome plug-ins to further customize the online experience; and
Understand security, confidentiality and ethics concerns related to Google Apps.
The book includes anecdotes from lawyers and law firm IT professionals explaining how they use Google Apps for Business at their firms and the value and increased productivity they have derived from the products.

Levitt and Rosch have co-authored several other books, including The Cybersleuth's Guide to the Internet, Google for Lawyers, and Find Info Like a Pro, Volumes 1 and 2. The authors present continuing legal education seminars on these topics throughout the country.

Google Gmail and Calendar in One Hour for Lawyers is published by the American Bar Association's Law Practice Management Section, a professional membership organization providing resources for lawyers and other legal professionals in the core areas of the business of practicing law — marketing, management, technology, and finance — through its award-winning magazine, webzines, educational CLE programs, website, and publishing division. For more than 30 years, LPM has established itself as a leader within the legal profession by producing ABA TECHSHOW, the world's premier legal technology conference and expo, and through its publishing arm, which has more than 90 titles in print.

With nearly 400,000 members, the American Bar Association is one of the world's largest voluntary professional membership organizations. As the national voice of the legal profession, the ABA works to improve the administration of justice, promotes programs that assist lawyers and judges in their work, accredits law schools, provides continuing legal education, and works to build public understanding around the world of the importance of the rule of law.