Google Redesigns Home Page Again, Hides Advanced Search Page Further

Google has announced yet another redesign to its homepage. This one includes a drop-down menu to access various Google databases and services, as well as a new "Google bar" that will remain constant across all of Google's services. In its announcement, Google states that the, "new Google bar that will enable you to navigate quickly between our services, as well as share the right stuff with the right people easily on Google+."

When the new design was announced at the beginning of December, it was, reportedly, supposed to roll out to all users within a week. Nearly two weeks later most users are still not seeing it. We were able to get access to the new design. Here's a preview...and some of it's not pretty.
The Advanced Search Is Hidden Again
The June 2011 moved the link to Google's Advanced Search page off of the homepage and hid it behind the gear icon in the upper right-hand corner. Now it's gone from there too. Now, access the Advanced Search page isn't offered until AFTER you've run a search. (Click the gear icon and then Advanced Search from the drop-down menu or the Advanced Search link at the bottom of the search results list.)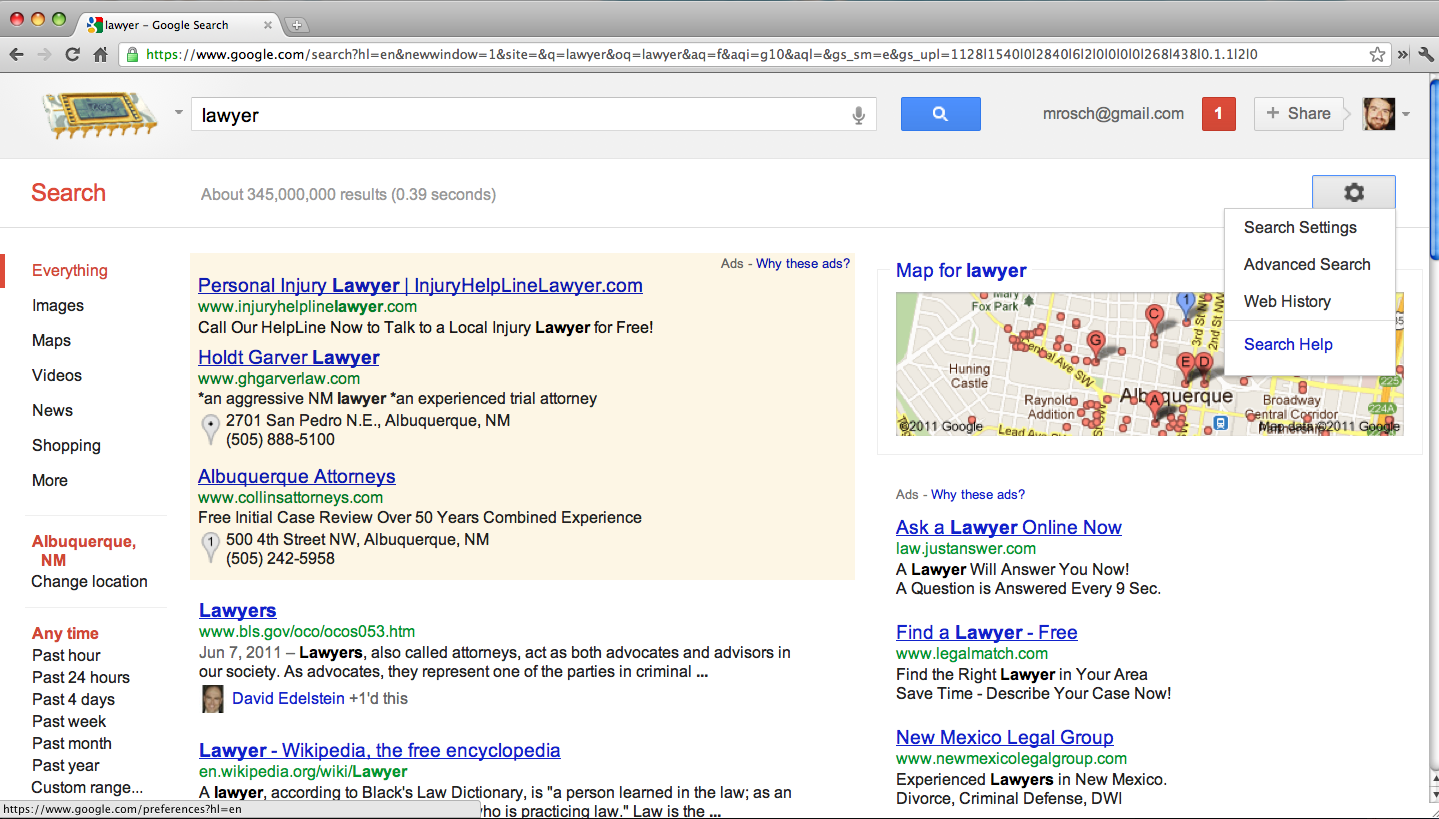 You can still access the Web Search's Advanced Search page directly at https://www.google.com/advanced_search. One of the useful filters that disappeared in the June 2011 redesign of the Web Search Advanced Search page, like the Page-specific tools: Find pages that link to the page: have returned (as have the three OR Boolean connector search boxes).
What's on the Drop-Down Menu...and What's Not
The only "general" background or investigative-search-related search options on the first screen of the drop-down menu are Search, Images, and News. Other options are Maps, You Tube, Gmail, and Documents.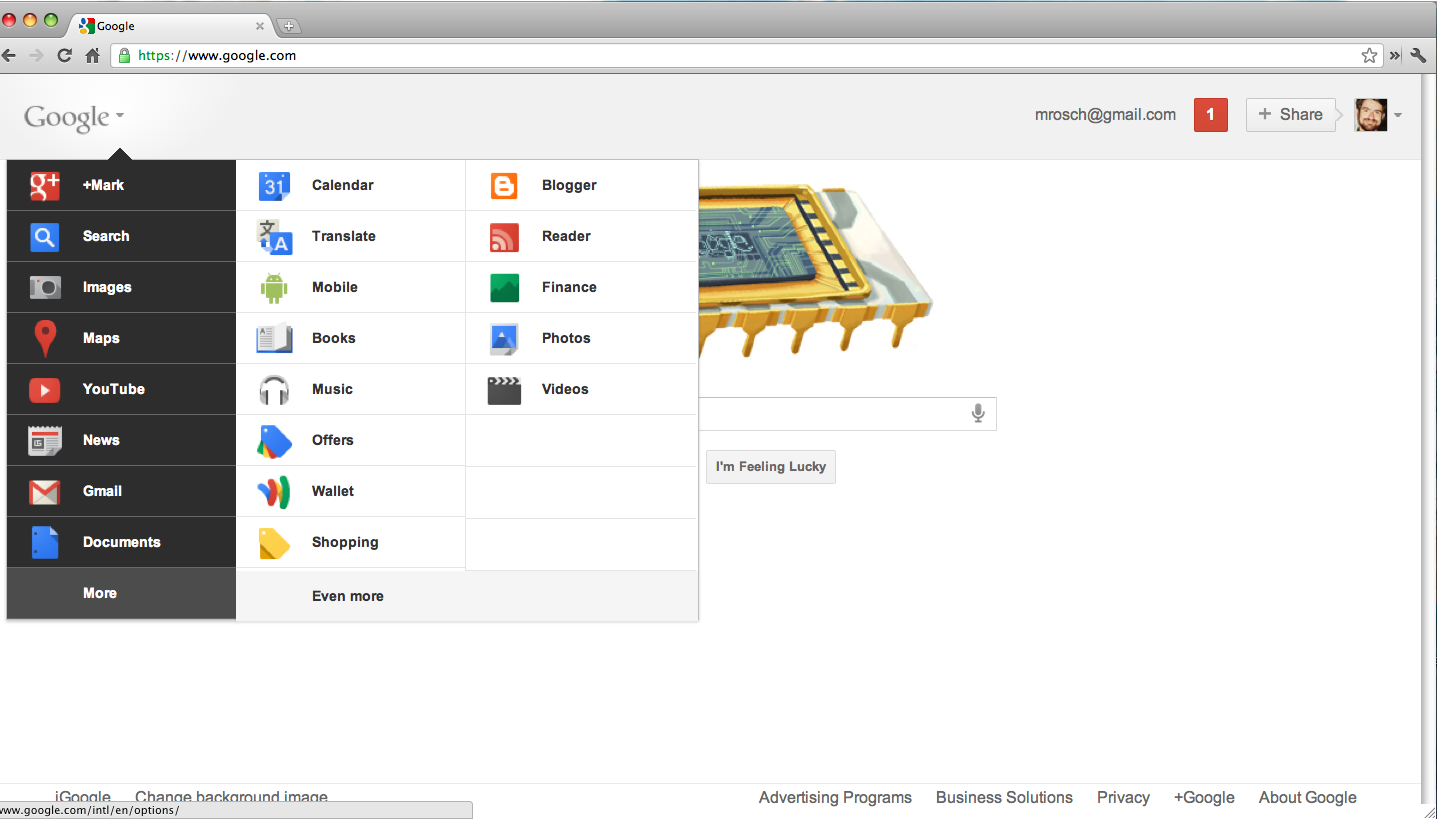 Clicking on the More link at the bottom of the list open a fly-out list that includes Books and Finance, in addition to services like Blogger, Calendar, Translate, and Music.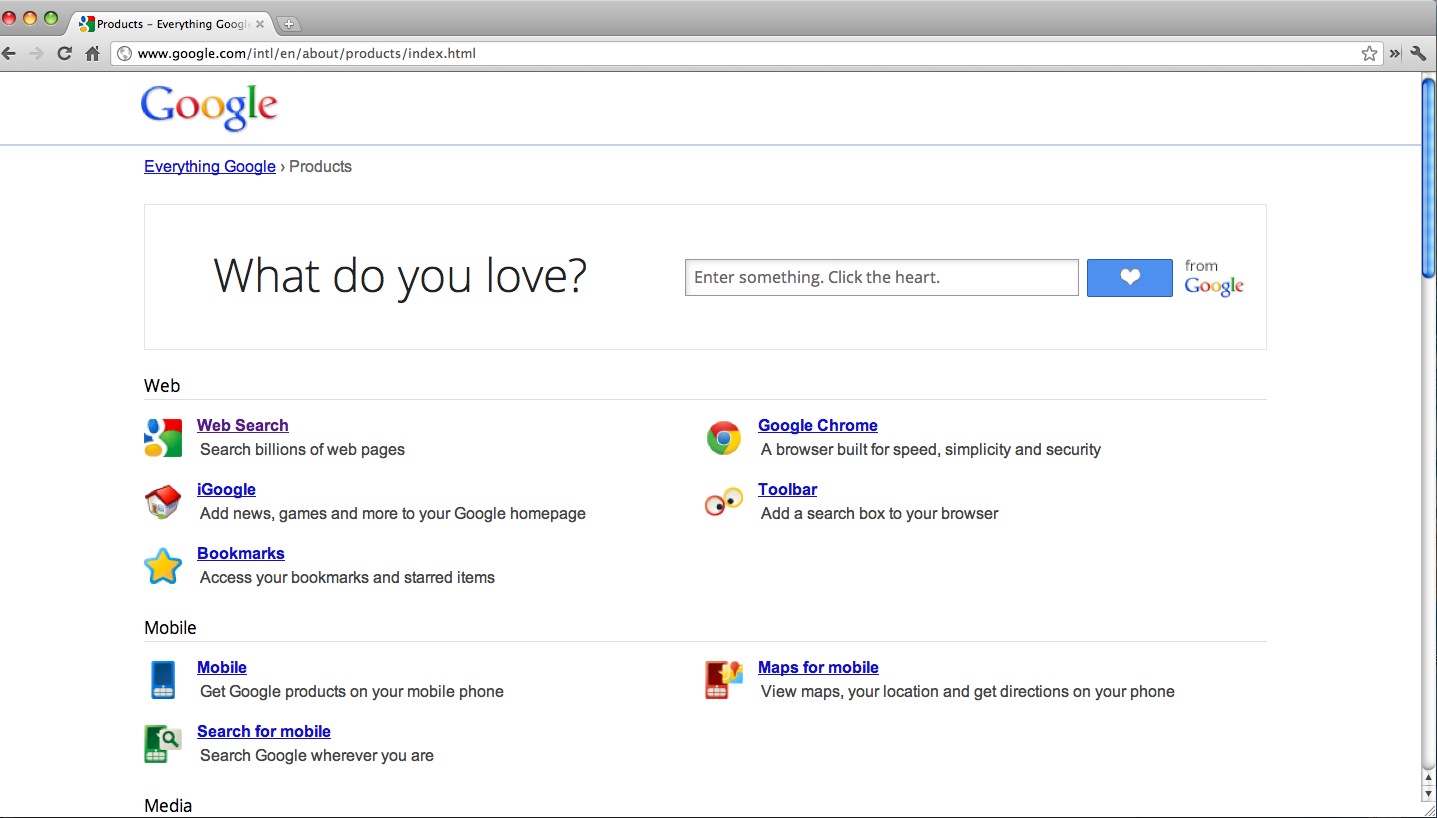 Of course there's an Even more link at the bottom of this fly-out list. Clicking it displays an Everything Google page that includes the What do You Love Google search box, as well as links to (presumably) Everything Google.
This drop-down menu is available by clicking the Google logo on the homepage of any of the Google services that have been redesigned (currently this includes just about all of the services with the exception of Groups), as well as the Google bar.
Changes to the Search Filters
Ever since Google first introduced the three column layout they've been adding and deleting filters from the left-hand side bar that's displayed after you run a search. For example, they have recently added Flights, Patents, and Recipes to the list; renamed Groups to Discussions; and deleted the Timeline display mode. (Note that Groups still retains its old name on the Everything Google page discussed above.)
Portions of this post adapted from: