Is Google Shared Spaces the Next Google Wave?


In late December 2010, Google quietly launched (as they so often do) a new Google Labs "experiment" called "Shared Spaces." The official description of Google Shared Spaces describes it this way:
Google Shared Spaces allows you to easily create a space with a collaborative gadget and a chat box in it. The gadgets are based on the Wave gadgets technology, so there are already more than 50 gadgets across different categories, like games, productivity, and event planning. Anybody can create a new space by going to the gallery and clicking on one of the featured gadgets. Spaces can easily be shared by just pasting the URL into a chat window, an email or a content sharing platform like Google Buzz or Twitter. And if you know a little Javascript, it is easy to get started building your own real-time, collaborative gadgets and create new spaces based on those.
Google also posted this presentation to help explain Shared Spaces, its capabilities, and potential uses.
In many ways, Google Shared Spaces is a new iteration of the less-than-successful Labs experiment Google Wave. Shared Spaces is much more open than Wave was however. In order to interact with people in a Wave, they had to be logged into their Wave control panel. Spaces overcomes this hurdle by being more open. Shared Spaces are easily accessible from the Web browser, and allow you to share the Spaces with anyone via e-mail, Google Buzz, or Twitter. Additionally, each Shared Space only accommodates one gadget, where a Wave could have multiple gadgets. (In order to "join a space" users must share log-in credentials from a Google, Yahoo!, or Twitter account.)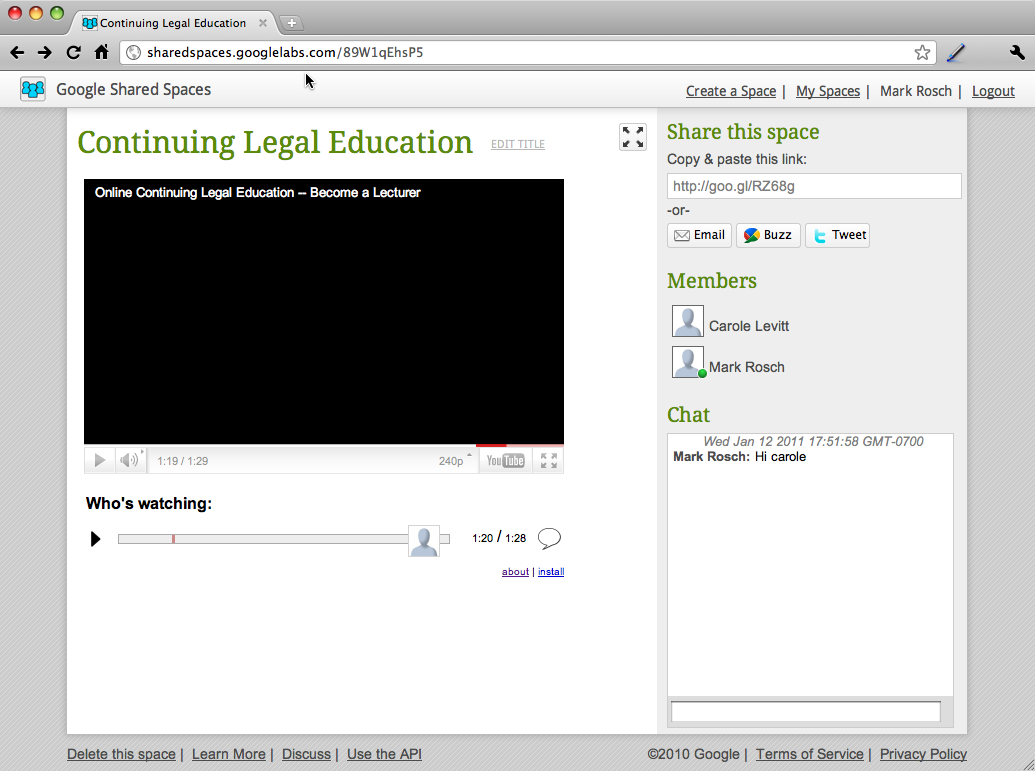 One intriguing gadget we tested was Wave Tube, a collaborative YouTube viewer. This gadget allows for multiple users to view a video stored at YouTube and to discuss the video with other users (or just comment) via the chat window. Each participant can also annotate the video with a text note that's embedded in their viewing timeline. Wave Tube could have application is Continuing Legal Education learning communities as a method to deliver video to remote learners, but still foster interaction between them. The fact that each listed viewer is accompanied by a an icon indicating if they're active in the Shared Spaces window (green) or not (yellow) could be a useful tool for moderators to monitor and encourage participation.
Note that in tests, we did have some issues with users who were viewing the Space in Internet Explorer 8 on a Windows XP machine. Despite being logged into the Space, this user was not able to participate in or view chat traffic. Switching to Chrome solved this issue.