Internet Archive Increases Delay in Posting Pages to Collection


One of the most popular resources that we discuss in our live Continuing Legal Education seminars using the Internet for investigative research is the Internet Archive (aka Archive.org). Numerous attorneys have told us that the site's collection of old versions of billions of Web pages has provided important information in the matters they've handled. (Still more tell us that they wish they were aware of it previously because it might have been useful to them in a previous matter.)
The pages collected by the Internet Archive are not immediately available for retrieval however. There has always been a lag time of six months between the date on which copies of Web pages were collected and when they became available as part of the searchable collection. Recently however, we have had trouble locating versions of Web pages in the Archive collection that are newer than 18 months. Note that in the screenshot below, a search for archived versions of pages from this site (conducted on November 10, 2010) yields no pages newer than June 25, 2008.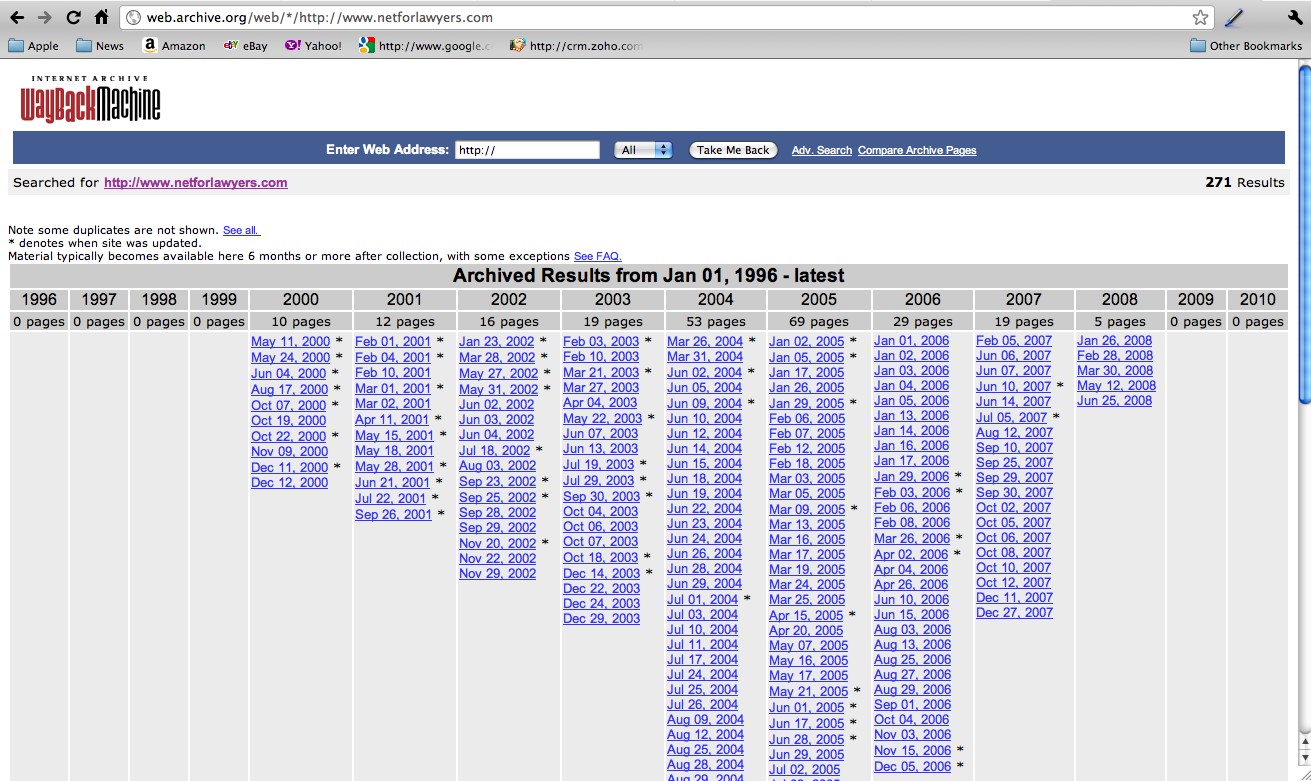 The site's Frequently Asked Questions (FAQ) page has been revised to note a longer lag time than the previously cited six months.
It generally takes 6 months or more (up to 24 months) for pages to appear in the Wayback Machine after they are collected, because of delays in transferring material to long-term storage and indexing, or the requirements of our collection partners. In some cases, crawled content from certain projects can appear in a much shorter timeframe — as little as a few weeks from when it was crawled. Older material for the same pages and sites may still appear separately, months later. There is no access to files before they appear in the Wayback Machine.
However, it should also be noted that another portion of their FAQ states, "Please note that there is a 6 - 14 month lag time."
Either way, it means that we will be waiting longer for these archived versions of Web pages to be available to us.