LegalTech West Coast Returns to Los Angeles | Registration Discounts Available

On May 17 and 18, 2011, ALM's LegalTech, the largest annual gathering of legal professionals on the West Coast, returns to Los Angeles. This year marks the conference's venture hotel, afterreturn to its previous home at the downtown Los Angeles Westin Bonaventure hotel, after four consecutive years at the Los Angeles Convention Center (also in downtown Los Angeles).
LegalTech is the one of the largest legal technology events of the year, and highly regarded among those in the legal industry. With conferences and trade shows in both New York and Los Angeles, LegalTech is a key resource for law firms and legal departments to get hands-on practical information for improving their law practice management.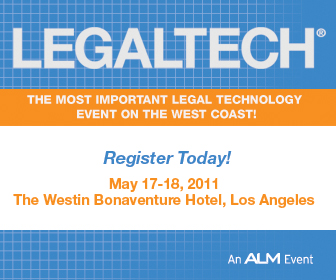 All readers of this newsletter can attend the exhibit hall free of charge by selecting the "Exhibits Only: Access to Keynotes, Emerging Technologies, SuperSessions & General Sessions" option on the online registration form. (https://secure.lawcatalog.com/almevents/almevents_registration.cfm?seminarid=1265&pregister=1) This complimentary pass includes entry to both Keynote Sessions, afternoon general sessions, SuperSessions and Emerging Technology sessions as well as the exhibit hall to peruse the latest in technological advances. Those with questions or comments regarding the 2011 LegalTech West Coast Conference can contact ALM Events at (212) 457-7905.
Additional registration information and the complete conference schedule is available online at http://www.legaltechshow.com/r5/cob_page.asp?category_id=65264&initial_file=cob_page-ltech.asp
Internet For Lawyers (IFL) subscribers can also claim an additional 20% discount on full conference registration by selecting the "Discounted MasterPass" option on the registration page (a $170 savings), and adding in the priority code IFL. Produced by ALM Events, LegalTech is the number one resource for law firms and legal departments to get hands-on practical information for improving their law practice management. The conference provides an in-depth look at what the technological world has in store for you and your practice, and it offers an expansive exhibit floor with the most extensive gathering of innovative products designed to meet your current and future technology needs.
This year's conference will offer 43 CLE-eligible programs providing up to 12 credits (one of which covers Legal Ethics). The programs include two keynote addresses: "Trial by Sound Byte:Law in teh New Millennium" presented by trial attorney/Emmy-Award winning TV journalist Manny Medrano; and "Social Media and the Law," presented by Meetup, Legal Team Leader David Pashman. Other faculty at this year's event includes the legal industry's top technologists.