What's Missing From LexisNexis Communities? Free Case Law

UPDATED 4/3/12
LexisNexis' Decade-Long Free Case Law Research Experiment Comes to an End
Free, current case law research has disappeared from LexisNexis Communities. All links and access to the database formerly known as lexisONE have been removed. The deep link that previously led to a functional free case law search form on the LexisNexis Communities pages now displays only a message announcing where one can pay to access LexisNexis' case law databases.
LexisONE, originally launched in July 2000 as a free legal portal by Lexis, was re-launched in December 2008 as LexisONE Community, and relaunched again in September 2011 as LexisNexis (LN) Communities (http://www.lexisnexis.com/community/portal). Explaining the change, at the time Lexis stated, "LexisNexis Communities have replaced the lexisONE Community to provide you with access to more innovative, up-to-date content and resources across multiple practice and professional areas. Even though lexisONE Community will no longer be available, you will still be able to access the same Forms and Free Case Law [emphasis added] which were offered through lexisONE, but now through a broader extension of our Communities" (http://www.lexisnexis.com/ COMMUNITY/WORKERSCOMPENSATIONLAW/cfs-filesystemfile.ashx/__key/ CommunityServer.Components.SiteFiles/Documents/lexisONE-community- FAQ.doc).
On February 24, 2012, as we were revising the 12th edition of The Cybersleuth's Guide to the Internet, we noted a dramatic change to the LexisNexis Communities site -- the removal of any links to what we considered the highlight of the portal's free resources: its full-text searchable case law database. Although there has been no announcement from Lexis, at the time, the home page pointed to the demise of the free case law search. At that time the homepage read, "Even though lexisONE Community will no longer be available, you will still be able to access the same Forms which were offered through lexisONE, but now through a broader extension of our Communities." Despite the lack of any mention of providing access to case law, the free case law search form was still available at http://linkon.in/sRr0mt.
While the searchable database was still accesible when this post was originally published, it would have taken a cybersleuth to find it. To access the search form from the LexisNexis Communities homepage you had to you click the Browse through State Courts for free or Browse through Federal Courts for free (at the bottom of the page). Even then, you would have seen that no cases had been added to the browseable list of cases since December 2011. It is unclear if the database will be kept online. We suspect not since the links to it have been removed and it is no longer an up-to-date database. As late as 3/29/2012, searches could still retrieve recent cases. That is no longer the case.
Within days of this post going live, LexisNexis removed access to the database entirely. Now, instead of accessing the the free case law search form, the page at http://linkon.in/sRr0mt displays the following message: "Thank you for your interest in case law offered by LexisNexis® through LexisNexis Communities and lexisONE. Our case law collection is now only available through a subscription to Lexis Advance™ or lexis.com®."
There is no longer any doubt. Free case law research from Lexis is most certainly dead - quietly killed off.


Lawyers can claim their free trial membership in the American Bar Association (and one Section) by clicking here.
For those who once relied on the free case law at LN Communities, try these other free options (all of which are described in detail in The Cybersleuth's Guide to the Internet book):
Casemaker or Fastcase (check your state or local bar's site to see if they offer it free as a member benefit)
Google Scholar
Justia
FindLaw
Cornell Legal Information Institute
LexisNexis California Cases
The Public Library of Law (PLoL)
FindACase Network
Other Changes at LexisNexis Communities
Another dramatic change at Lexis, for which there was an announcement, is the demise of the "pay by credit card" ad hoc use of Lexis and Shepard's.
So, What's Left at LexisNexis Communities?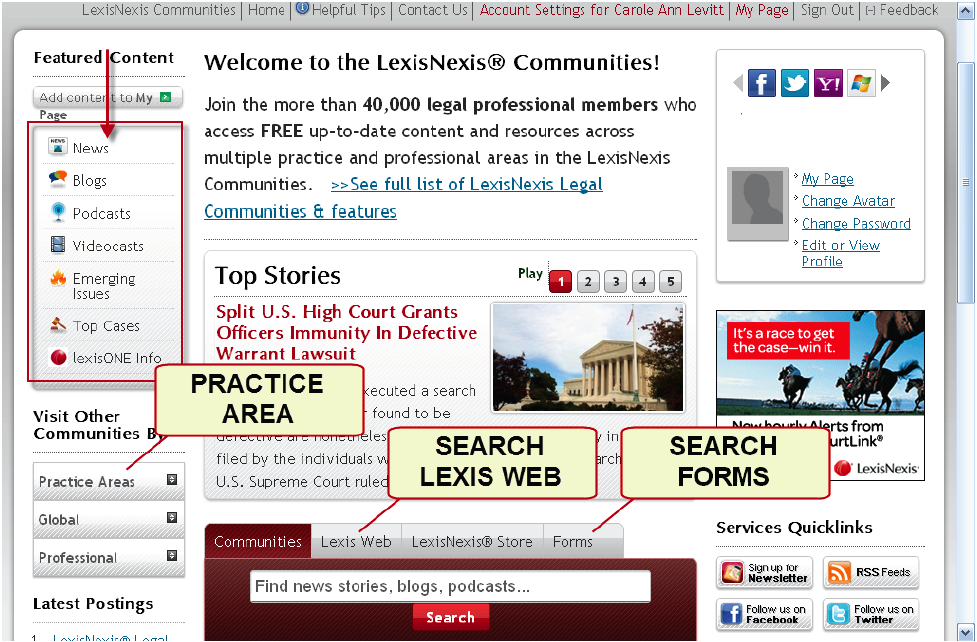 The following services are available (accessible from tabs listed beneath the Featured Content column on the left of the home page as noted in the above illustration):
News (headlines from Mealey'sTM Legal News and other sources)
Blogs
Forms
Podcasts
Videocasts
Emerging Issues
Top Cases
Before clicking any of the tabs noted above, select the Practice Areas dropdown arrow beneath the Visit Other Communities By and select a practice area (see above illustration). Then, when you click a tab from the Featured Content column, such as News, Podcasts, etc. it will be customized to your chosen practice area.
In the Visit Other Communities By section, there are two other communities besides Practice Areas: the Global and the Professional. For those interested in legal news from Australia, Hong Kong, or Japan, select one of those countries from the Global tab.
The Professional community tab is divided into a few professions, (such as Academic and Legal and Corporate Information Professionals) and there is also a link to Martindale.com.
Other services can be accessed by scrolling down the home page, such as Lexis Web (a "search engine that delivers free web content specifically from legal sites validated by LexisNexis® attorney editors") and Forms (ranging from over 6,000 free forms from Matthew Bender® to interactive pay forms) Users can customize their LN Communities page by clicking Add Content to My [Page]. To use the portal registration (free) is required (even to use the free portion).