LexisNexis Raises Price of Shephardizing Cases in LexisONE Community


LexisNexis has raised the price of Shephardizing a single case at it's LexisONE Community free online caselaw research site from $6.00/case to $15.00/case. This appears to be a New Year's price increase, as the price was $6.00/case when we visited the site in late December 2010. Prices have not increased for longer-term access to Shephard's. Daily packages for unlimited access to Shepard's remain $43, the weekly package remains $69, and the monthly package remains $146. Additional discounts may be available as a member benefit through state, local, and specialty bar associations.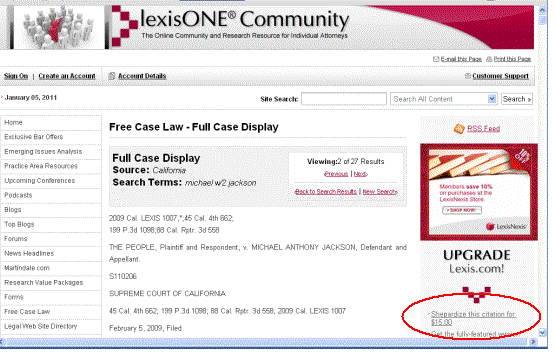 LexisONE Community is a legal portal (partially free and partially pay) offered by the commercial legal vendor LexisNexis. It was originally launched in July 2000 as LexisONE and re-launched as LexisONE Community in December 2008.
The highlights of the portal's free "added value" resources are accessible from the tabs on the home page, beginning with Free Case Law (full-text searchable), Lexis Web ("search engine that delivers free web content specifically from legal sites validated by LexisNexis® attorney editors"), Forms (ranging from free forms to interactive pay forms), and Lawyer Locator.