New Alarm Clock Concepts at CES 2016

Not all technology at CES is completely new. Some are very familiar - just with a small twist. Some other products offer more of a twist. Here are some of the new products new companies that want to just help you get out of bed.
Sandman Clocks

Sandman Clocks is offering a new twist on the standard nightstand clock most of us probably currently have in our bedrooms in one form or another. The Sandman Clock's most prominent feature are the large red LCD digits displaying the time. The clock auto-adjusts the brightness of the time display so that they dim when it's darker, so as to not illuminate the room. (The brightness can also be adjusted manually.) The clock's second most prominent feature are the four USB charging ports on the rear of the case. Three of these are 1.0 amp, suitable for charging most phones or other small devices. The fourth USB port is a 2.1 amp, high power, port suitable for charging tablets or larger devices.
The clocks design also features a large snooze bar with a contoured indentation that makes it easy to find with your eyes closed. Slots molded into the case's bottom help to manage the charging cable of plugged in devices.
The Sandman Clock is currently available for pre-order for $29.00.
Sensorwake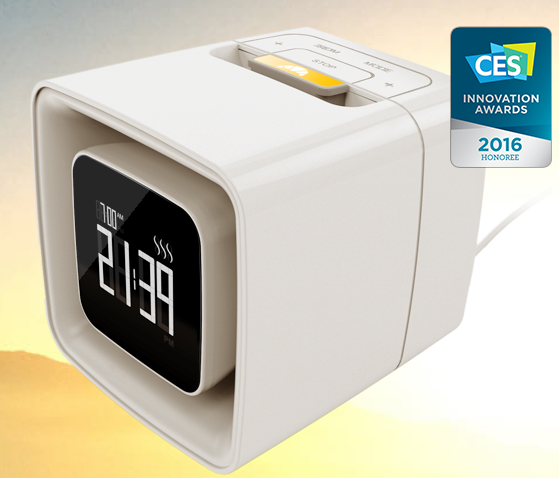 Sensorwake offers an alarm clark that will wake you with no audible alarm. Rather, it uses a dry-air diffusion technology to fill the air with pleasant scents at wake up time to getnly rouse you from your sleep. The scents are housed in a (recyclable capsule). The clock comes packaged with a toast scent capsule. Other scents availabel include: Espresso, Lush Jungle, and Chocolate. Capsules are sold in two packs (two different scents) for $10.90. Each capsule is good for 30 wake alarms.
The Sensorwake alarm clock is available for pre-order for $109.00. (A CES promotion drops the price to $89 until January 10.)
LaMetric Time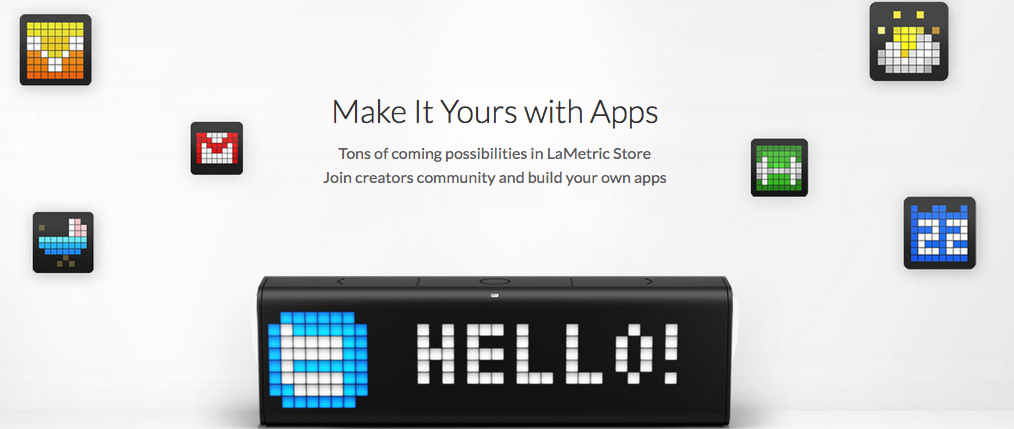 First, this Internet-connected clock sets itself. Second, LaMetric has created its own "app ecosystem" to add features and functions to the clock's LED display. Some of the available apps include: a stock ticker, And for businesses: Facebook and Twitter follower counters.The device can also tap into If-This-Then-That recipes to pull informaiton in from other sources, as well.
The LaMetric Time clock is available for $179 (home model) or $199 (portable/battery operated model).