Documents Removed from PACER Set to Return Says Administrative Office of the Courts (AOC)

The Washington Post is reporting that the Administrative Office of the Courts (AOC) "has a plan to restore online access to documents that were controversially removed in August from PACER, the online system for accessing public court records." According to the post to the newspaper's blog, David Sellers, assistant director for public affairs at the AOC, issued the following statement to the Washington Post:
"The Administrative Office is working to restore electronic access to these cases by converting the docket sheets in these cases to PDF format which will allow us to make them available in PACER. This process will be completed in the four appellate courts by the end of October. We are also working to provide a similar solution for the dockets on the legacy system in the California Central bankruptcy court."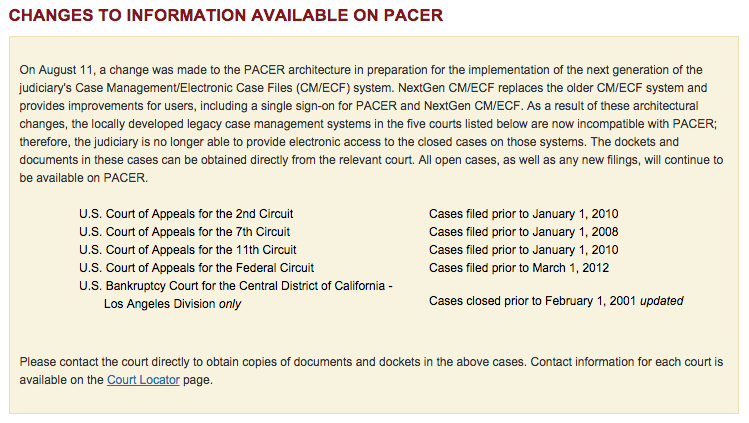 It's important to note that the statement refers only to restoring PDFs of the docket sheets for these courts/time frames and not the underlying documents from those cases. Addressing that issue in the same blog post, Sellers reportedly told the Washington Post that "the vast majority of the records consist of docket sheets rather than actual court documents."
On August 11, the AOC announced that select documents from five courts would no longer be available in the PACER Case Locator. The American Association of Law Libraries (AALL), Special Libraries Association (SLA) and individual law librarian bloggers have been vocal critics of the changes.
Previously, the Washington Post had reported that Senator Patrick Leahy (D-Vt.), chairman of the Judiciary Committee contacted the AOC, urging the courts to restore online access to the documents that had been removed.