Are Tablets What the Doctor Ordered for the Consumer Electronics Industry?; Dozens of New Tablet Computers Announced at CES 2011


The outline for one of the biggest stories at this year's Consumer Electronics Show (CES) is being written by a company that's not even at the show. Nearly three dozen companies are showing tablet computers at this year's CES. All are hoping to grab a piece of this emerging market that has been defined by Apple, Inc. Even though Apple, the consumer electronics powerhouse whose products have been causing a stir since the company's inception, is not exhibiting at CES and never has, the company's iPad tablet computer has set the competitive bar for all of these companies.
These companies have good reason to go after this market. According to research by the Consumer Electronics Association (CEA) that sponsors CES, even with 17 million tablet computers sold in 2010, the market remains strong. Whether you're among the 38 percent of consumers CEA surveyed who said that they intended to purchase a tablet computer within the next year or one of the majority of "current tablet owners [who] expect to buy another one," it looks like you'll have a wide range of choices in almost every price category. Some of the tablets we saw at CES this year include:
(This list is just a start. We'll be adding more.)
Archos - Known for their digital music players, Archos announced its Archos 70. The 7 inch tablet measures just 4.5 inches wide and a half inch thick. It runs Google's Android operating system on a 1GHz Arm processor and boasts 250GB of internal memory. The suggested retail price is $349.99.
Asus - A pioneer in the netbook market, Asus announced one of the most extensive and aggressive collections of tablet computers with four different devices with three different screen sizes, as well as options to run Google's Android 3.0 or Windows 7 Home Premium operating systems. The EEE Slider is a 10.1 inch tablet running on an nVidia Tecra 2 processor. It boasts a full slide-out qwerty keyboard. It includes two cameras - a 5MP rear-facing camera and a 1.2MB front-facing camera. The EEE Pad Transformer has similar specs as the Slider, but the keyboard is detachable. The EEE Pad MeMo is Asus' 7.1 inch entry running Android, while the Slate EP 121 is a 12.1 inch tablet running Windows 7 on an Intel Core i5 dual-core processor. The Slate EP 121's (up to) 64GB of internal memory and the ability to add a bluetooth keyboard make it one of the similar to the laptops and netbooks these slates are meant to replace while traveling.
Dell - The newly-announced Streak 7 inch tablet computer isn't Dell's first foray into the tablet market. A 5 inch Streak is already available. The 7 inch is notable because because it will be able to access T-Mobile's 3G and 4G cellular networks. The Streak 7 runs Android 2.2 and features a dual-core 1 GHz nVidia Tegra processor. It includes two cameras - a 5MP rear-facing camera and a 1.3MB front-facing camera. The Streak 7 comes with 16GB of internal storage, expandable via an SD card slot.
MSI - Like Asus, MSI is known to consumers mostly for its netbooks. At CES, MSI announced two 10 inch tablets - the WindPad 100W and the Windpad 100A, running Windows 7 Home Premium and Android 2.2, respectively.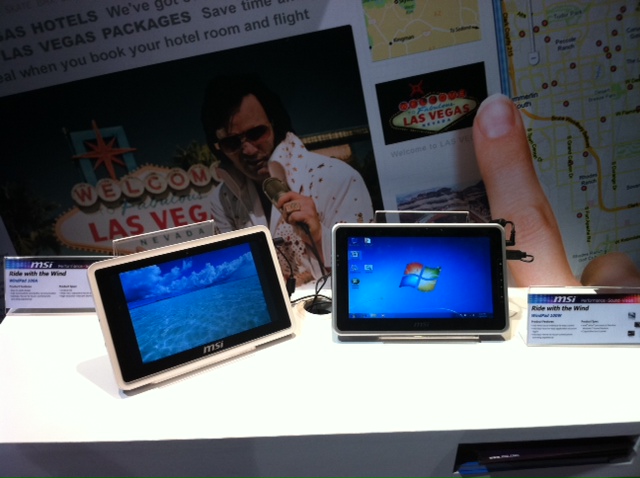 The Windows version is powered by a 1.66GHz Atom Menlow Z530 CPU here, and features 32GB of internal memory and 2GB of RAM. The Android version is powered by an ARM-based Cortex A8 processor (but MSI did not name the vendor) and features 512MB of internal memory and 1GB of RAM. THe Android version also includes an SD slot to boost storage capacity. Both versions include front and rear-facing cameras, but information on their resolutions was not available. An MSI rep told us that the devices are expected to be available at retail in the U.S. in February 2011. Pricing was not available.
Samsung - The newly-announced Galaxy Tab resembles a big brother to Samsung's previously announced Galaxy S smartphone. The 7 inch Galaxy Tab runs Android 2.2 and is compatible with Adobe's Flash 10.1 (the Galaxy S smartphone supports Flash Lite). It includes two cameras - a 3MP rear-facing camera and a 1.3MB front-facing camera.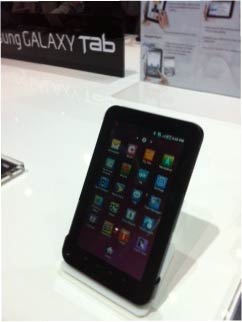 The Galaxy Tab comes with 16GB of internal storage, expandable to 32GB via a Micro SD card slot. A WiFi-only version will be available for purchase in the U.S. in the first quarter of 2011. A 4G-compatible version was also announced to be available from Verizon The 4G version will see an increase in the resolution of the rear-facing camera to 5MP. Pricing is not yet available for the new Galaxy Tabs, but the price of the existing 3G version of the Galaxy Tab is expected to drop - with some outlets reporting a sub-$300 price tag (when purchased with an additional 3G wireless data contract).
Viewsonic - The newly-announced Viewpad 4 is the smallest of the new tablet computers announced at CES, but it includes full cell phone functionality. So is it a big cell phone or a small tablet? Viewsonic picked tablet...but you decide. Also running the Android operating system, the Viewpad 4 runs on a Qualcomm 1GHz CPU. It includes a 5MP rear-facing camera. The 4 inch device joins Viewsonic's already-available 7 and 10 inch models. The Viewpad 4 is expected to be available "in the middle of 2011." Pricing of the Viewpad 4 will be dependent on the cellular network partners. The 7 inch and 10 inch have estimated street prices of $459 and $629, respectively.
Vizio - Best-known for its flat-screen TV's, Vizio also announced two new Android-powered, handheld devices - an 8 inch tablet and a 4 inch phone. The tablet includes plus a Micro-SD slot for expansion. The 4 inch device features a 5MP rear-facing camera (with flash) and a front-facing camera. Prices were not available for either device.