Investigative Research Database TLO Offers Vehicle Sightings Database

The fee-based online investigative research database TLO.com has unveiled a searchable database of motor vehicle license plates. The collection encompasses "a massive database of one BILLION vehicle sightings and the addition of up to 50 million new sightings each month," according to a company press release announcing the new addition. "Vehicle Sightings provides valuable information for locating subjects and investigating the historical whereabouts of individuals and vehicles." While it is not stated how these sightings are captured, law enforcement agenecies and auto reposession companies have been utilizing similar license plate capturing technology for some time.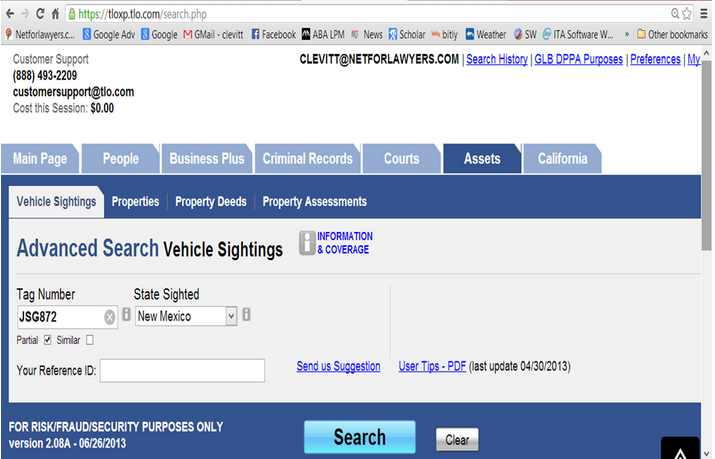 Today we tested out the Advanced Search - Vehicle Sightings database. According to the TLO Web site, "it offers an overview for the sightings of vehicles by license plate. Under 'Sightings Preview' you will find the pictures of the vehicles at the time of the sighting. From this free preview, you will be able to run a detailed Vehicle Sightings Report for Current (last 30 days), Recent (31 to 90 days) and/or Historical (older than 90 days) sightings. The Vehicle Sightings Report will display a picture of the vehicle at the time of the actual sighting, as well as exact date, time, and location (latitude/longitude with a link to maps)."
You can search by full or partial license plate number and can add in a state if you know it. We searched for the two vehicles we own usng the full license plate number and added in the state where the vehicles are registered. The result that was returned was for a vehicle with a slightly different drivers license plate. The results provided a picture of the vehicle (and Sandia Peak in the background), its license plate, the date and time of the sighting, longitude/latitude, and that it was sighted in "Tamaya, NM." (Note that while there is no such town in NM, that is the name of the Santa Ana Pueblo in the tribe's native language.)
While the content of the results are very impressive, bringing back a wrong result was not useful. If there were no results for the license plate we searched, it would be better to have been informed there were no results instead of trying to bring back a sighting of a vehicle with a license plate number that was close to our number.
In response to our clicking the "Unhappy" button that accompanied TLO's results for this search, we received the following response from TLO Customer Support:
"Licence [sic] Plate Recognition (LPR) software, along with optical recognition software in general, has gotten a lot more accurate over the years. However it isn't perfect yet and there are still some characters that give them trouble I's an 1's and 7's and T's for instance. This is why we give you the Sightings Preview to view before you run the report."