Wolfram Alpha Launches Lawyer's Personal Assistant App for iPhone, iPad, and iPod Touch

Wolfram Alpha has announced its Lawyer's Professional Assistant app for the iPhone, iPad, and iPod Touch. The app is $4.99 in the Apple iTunes App Store.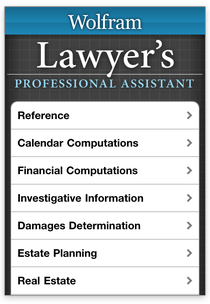 Features include:
A dictionary of legal terms; statutes of limitations for each US state; and information about visa types, including requirements, common issues, and extensions and limits
Calendar computations to quickly determine the end date of a specific term
Financial computations, including fee calculations, settlement calculations, current interest rates, historical value of money, and federal US tax rates
Crime rates and histories for specific crimes, as well as state and national average comparisons
Demographics of population and economy for specific cities and international information about currency, country economies, and languages spoken, as well as time zone conversions
Investigative information, including weather, company information, IP lookup, and blood alcohol calculator
Damages and estate-planning computations for occupational salaries, costs of living, life expectancies, and present or future values
Real estate law, including mortgage calculations, closing cost estimation, information on square footage, home sales price, and utility prices
Information in the app is compiled by the Wolfram|Alpha "computational knowledge engine." Rather than indexing Web sites (and searching that index to retireve answers to queries), Wolfram|Alpha has compiled and organized multiple terabytes of information from which it computes the answers to queries.