Addendum to The Cybersleuth's Guide to the Internet, 14th Edition Revised 2019

When writing a new edition of The Cybersleuth's Guide to the Internet, we can always be certain that:

many of the sites in the book have changed some features or functions
there are a number of new useful Web sites to add
some Web sites no longer exist

This is true even after the book is completed. The following list highlights some of the changes that have occurred in the brief time since the 14th edition, revised 2019 was completed in July 2019.
Chapter 13
PACER Billing

Page 183 - PACER announced that, "Beginning Jan. 1, 2020, if a PACER user quarterly usage is $30 or less, the bill will be waived. This is an increase from the existing $15 or less quarterly fee waiver. Users will see this reflected in the April 2020 billing statement. This will result in more than 75 percent of users accessing court records paying no fee in a given quarter. The Judicial Conference approved this action at their September 17, 2019, meeting."
Chapter 20
Download Your Facebook Data
Pages 366-368 - Facebook has changed how to request a download of your account. Please replace pages 366-368 with these pages.
If a judge compels a party (or non-party) to turn over his or her Facebook account to the opposition (in a civil action), Facebook recommends that the compelled person use Facebook's Download Your Information tool (explained by Facebook at http://linkon.in/XWGVkB):

Parties to litigation may satisfy party and non-party discovery requirements relating to their Facebook accounts by producing and authenticating the content of communications from their accounts and by using Facebook's "Download Your Information" tool, which is accessible through the Settings drop down menu.
If a person cannot access their content, Facebook may, to the extent possible, attempt to restore access to deactivated accounts to allow the person to collect and produce their content. However, Facebook cannot restore account content that had been deleted. Facebook preserves account content only in response to a valid government requests. [sic]

Facebook offers all of its users the ability to Download a copy of their Facebook data. To access this tool, log into your Facebook account and click the down-arrow on the far top right. From the drop-down menu, click Settings.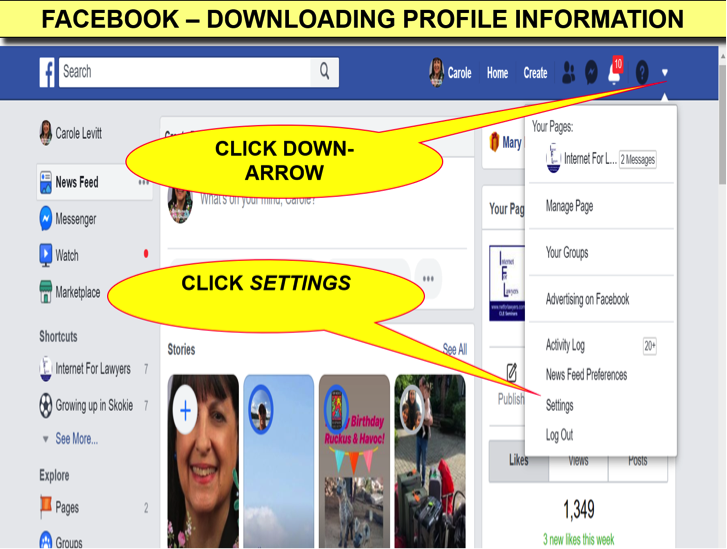 You are then taken to the General Settings Page (not shown) and after you click the Your Facebook Information page tab (towards the top of the left column), the Your Facebook Information page appears. Now, click Download Your Information.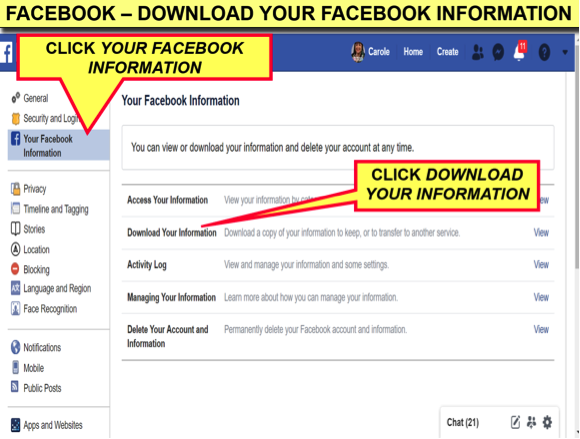 Then, you are taken to the Download Your Information page. Select a specific date range from Date Range if you don't want to download information from all dates. Click the Create File tab on the right side to download all your information or wait to do this until after you uncheck any information you don't want to download. This could be Posts, Photos and Videos, Comments, Messages, and About You, among other information from your account.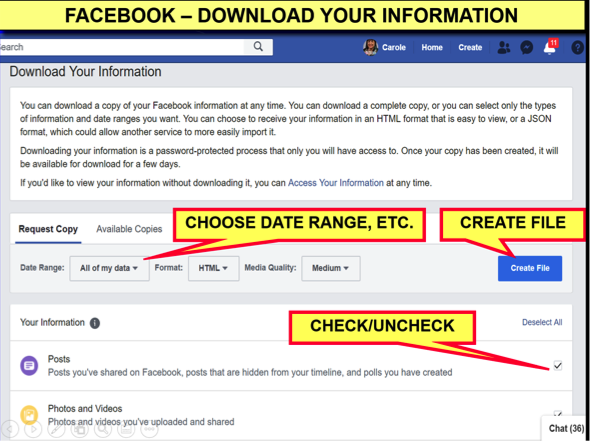 You will receive an e-mail message informing you that Facebook has received your request. Archive files can take minutes, hours, or days to generate depending on the amount of information available for a specific account and the volume of archives requested at any given time. You will receive another email that the file you've requested containing your Facebook information is now ready for you to download. You can find your file by clicking available files from the email. You will then be taken to the Download Your Information Page at your Facebook account. Enter your password and then download your information to your computer. (For security reasons, the file will be available to download only for a few days after you receive the email.) The next illustration shows the unzipped file of my August 8-9, 2018 Comments that I had requested Facebook to create.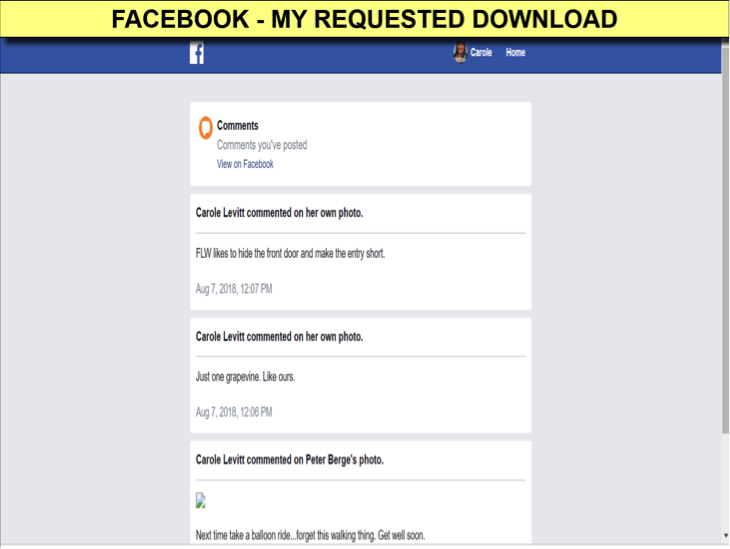 Opposing parties who are required to produce information from their Facebook accounts can be instructed on how to initiate this process in order to produce the requested information. You will probably want to ask the judge to order an in-camera proceeding when the opposing party requests Facebook to create the file (to ensure the party requests the relevant information from the relevant dates) and again when it's time to download the file that Facebook created.
Download Your LinkedIn Data
Pages 380-381 - LinkedIn has changed the options on its Getting a copy of your data page.

Change Fast file only to:

Want something in particular? Select the data files you're most interested in.

Change Fast file plus other data to:

Download larger data archive, including connections, contacts, and your account history.
(1) Download larger data archive, including connections, contacts, and your account history. (After you click into the radio button to choose this option, click Request archive. Within 10 minutes you will receive an e-mail with a link to download some of the smaller files from the archive. You will receive a 2nd e-mail within 24 hours to download some of the larger files.)
(2) Want something in particular? Select the data files you're most interested in. (After you click into the radio button to choose this option, click the checkbox(es) for one or more of the files listed, such as Articles, Messages, etc. Then click Request archive. Within 10 minutes you will receive an e-mail with a link to download whichever files you chose. When we chose Articles, an email arrived within 5 minutes with our requested files.)
Delete the screenshot from page 380 and replace it with this one: