Addenda to The Cybersleuth's Guide to the Internet, 14th Edition

For updates to The Cyberleuth's Guide to the Internet, 14th edition, revised 2018, see this page.
THIS PAGE IS CLOSED
The Cybersleuth's Guide to the Internet, 14th edition - Addendum (06/11/18)
When writing a new edition of The Cybersleuth's Guide to the Internet, we can always be certain that:

many of the sites in the book have changed some features or functions
there are a number of new useful Web sites to add
some Web sites no longer exist

This is true even after the book is completed. The following list highlights some of the changes that have occurred in the brief time since this edition was completed.
Chapter 4
Page 61: The second paragraph should read:

Google does not recognize parentheses to group search terms. Since Google ignores most punctuation, we would expect a Google search for "homeland security" (nevada OR oregon) to return the same results as a Google search for "homeland security" nevada OR oregon. However, in our test searches, while the first two dozen or so results were the same, we did see small variations in the results through result 100.
Chapter 5
Page 89: Google Apps Launcher – Google has removed the Even More link from the bottom of the Apps list discussed on this page. The only way to access the complete list of Google apps, specialty databases, and other products is using the direct URL https://www.google.com/intl/en/about/products/.
Page 92: Google News – News-only search results at http://news.google.com are returning only a few days of results, rather than the 30+ days we had been seeing until recently. (Note that news results retrieved via searches at http://www.google.com and accessed with the News filter still display results up to 60 days old in our test searches.)
Page 93: Google News – News-only search results at http://news.google.com can now be sorted by date after you click the View full coverage link for a particular sub-set of results. (Note that news results retrieved via searches at http://www.google.com and accessed with the News filter can always be sorted by date by clicking the Tools button and then the Sort by Relevance drop-down at the top of the results.)
Page 104: Google Reverse Image Search – Reverse Image Search results now include a Best Guess of a keyword to describe the image.
Page 109: Using Google As a Phone Directory or Address Directory – To conduct a reverse telephone search, we would ordinarily enter the phone number into the search box with dashes between the segments (310-559-2247) because Google tells us that it ignores punctuation. However, recent test searches show that Google is not ignoring punctuation in the case of a string of digits, like a phone number. In these test searches, we saw different results for a search for 310-559- 2247 and 3105592247. So, to retrieve results that include the most variations of ways phone numbers are listed at web sites, it's better to leave off the dashes between the segments (3105592247) in the search box. This will retrieve more variations of a phone number, such as 3105592247, 310-559-
2247, 310/559-2247, and (310) 559-2247. Additionally, some test searches using the OR Boolean connector (e.g., 310-559- 2247 OR 3105592247) retrieved a greater number of
results.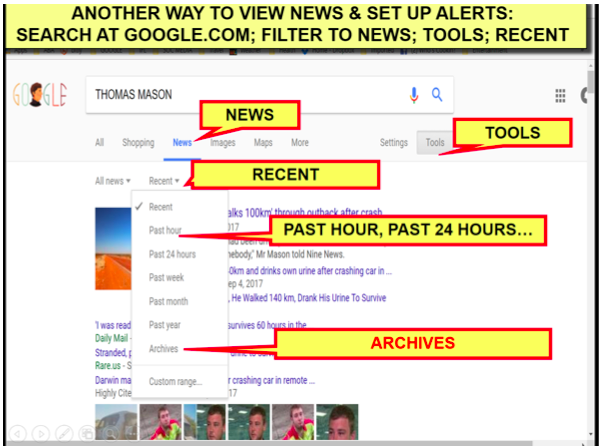 Pages 95-96: Google Alerts – If you search for news at https://news.google.com (above), the opportunity to set up an Alert is no longer offered at the bottom of the Google News results page. Instead, you must visit google.com/alerts to set up an alert. Another way to create an Alert is to run your search at https://www.google.com, then on the results page, select News from the filter bar and from that results page, click Tools, then Recent. Then you'll see a drop-down menu to filter by Past hour, Past 24 hours, Past week, Past month, Past year, Archives, or Custom range.
Chapter 6
Pages 128-130: Duckduckgo – If you limit your Duckduckgo "bang" search to Google, be sure you are logged out of your Google account to remain anonymous.
Chapter 7
Page 136: Full-Text Search of the Wayback Machine – The Internet Archive's full-text search of the Wayback Machine has moved out of beta and accessible from the search box on the site's homepage (http://archive.org). Otherwise, the search functions as described on pages 136-137. The site has also closed access to its beta-version tools at https://web-beta.archive.org.
Page 144: Authenticating pages from the Internet Archive's Wayback Machine – The Patent and Trademark Appeals Board accepted pages printed from the Wayback Machine as authentic evidence of prior art. Johns Manville v. Knauf Insulation IPR2015-01453, paper 49 (PTAB Jan. 11, 2017), available at http://linkon.in/2r4ozBR.
Chapter 13
The Administrative Office of the U.S. Courts has made extensive chances to to PACER (Public Access to Court Electronic Records) for the first time in decades. We have added those changes to the PDF version of this Addendum, downloadable from this link.
Chapter 16
Pages 275 and 277-278: As of September 26, 2017, FamilySearch.org's United States Social Security Death Index collection (http://linkon.in/famsearchdeath), which includes
death records from 1962 through February 28, 2014, no longer includes Social Security Numbers. FamilySearch has added death records post-February 28, 2014 (https://familysearch.org/search) by gathering death information from non-Social Security Administration sites, also without Social Security Numbers.
Chapter 20
Page 341-345: Facebook has discontinued many search features useful to legal professionals conducting background and investigative research of users on the popular social networking site. These include searching by email address and phone number to locate someone's Facebook profile. The changes were spurred by recent revelations that political data mining firm Cambridge Analytica scraped publicly available information from an estimated 87 million Facebook profiles for political marketing purposes. (Reports estimate that 71 million of those profiles were of U.S. residents.) Recent reports indicate that the practice was also widespread among other third-party actors seeking to cull data (for various reasons) from the profiles of Facebook's 2 billion users. More details are available on our blog.

Pages 361-361: LinkedIn used to allow you to search even when you weren't logged into an account. All you had to do was visit https://www.linkedin.com/ and enter a first and last name into the Find a colleague search boxes. LinkedIn would then show you a results list and let you view profiles.

But now, a pop-up asks you to Join or Sign In. If you do neither and just click Search, LinkedIn does one of two things: (1) it might show you a results list, but it won't let you see any profiles or (2) it won't even show the results list, but just asks you to sign in or join.

To view profiles, you now must be logged into your own LinkedIn account. But even then, you might not see much because individual profile owners can set their LinkedIn privacy settings to limit the amount of information people to whom they are not directly connected to can see. Once you log into your account, you can search for others' profiles by entering a name (person or company) or even keywords or phrases into the Search box on the top left side of the page.

Page 391: Add Massachusetts Bar Association Committee on Professional Ethics Opinion 2014-5 (May 2014) to the selected list of ethics opinions that deal directly with the issue of attorneys conducting background and investigative research using information readily available on the Internet—including social networking profiles. (http://linkon.in/maethicsop2014)
Chapter 28
Page 488: TLO's Vehicles Advanced Search menu allows you to search by Name (Personal or Business), Address, SSN, VIN, or Tag Number.