Bing Launches Twitter Hashtag Search | But Is It An Improvement?

Bing has launched a new search function that allows users to easily retrieve content from Twitter using either the hash symbol ("#") or the "@" sign as part of your search. While Microsoft has touted its "special relationship" with Twitter (dating back to 2009), this new development does not appear to offer significant improvements beyond the search capabilities of Twitter's already-existent - albeit sometimes difficult to find - search pages.
Previously, we've offered some more detailed tips for creating more effective searches via Twitter.

When you enter a search keyword preceeded by the hash symbol, Bing will suggest hashtags that have been used on the social networking site to categorize posts.
When you begin your search with the @ sign, Bing suggests popular users (mostly celebrities) that match your input.

Not every existing user is included in the suggestion list (even if you type in a complete user handle). however, any valid user name used as a search term will be retrieved in the search results.
The suggestions are presented in a drop-down box that appears beneath the search box - the same way Bing (and Google) already suggest search terms based on other popular searches that match the characters you have typed into the search box.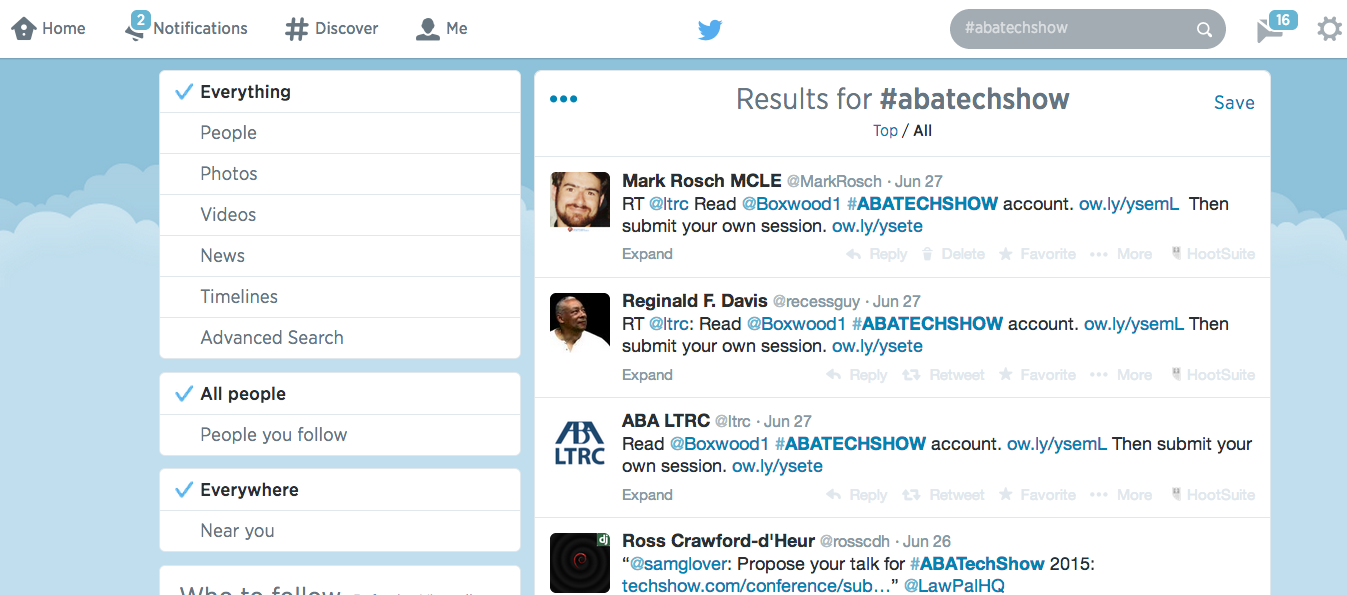 Based on our test searches, it appears that Bing is simply acting as a front-end to submit searches via the existing Twitter search structure. Searches for hashtags like #ABATECHSHOW yielded the same results whether we ran the search using Bing or Twitter's own search box.
Twitter's own internal search has also long been criticised for it shortcomings targetting older tweets and searching for specific date coverage.
PC World addressed these shortcomings in its coverage:
What's less clear, however, is whether or not users will be able to use Bing to plumb the murky depths of historical tweets. One of the problems with Twitter is that, while it has been easy to discover current tweets and trending topics, it's much more difficult to go back to say, the last World Cup four years ago, and re-discover what fans were talking about. And that apparently won't change.